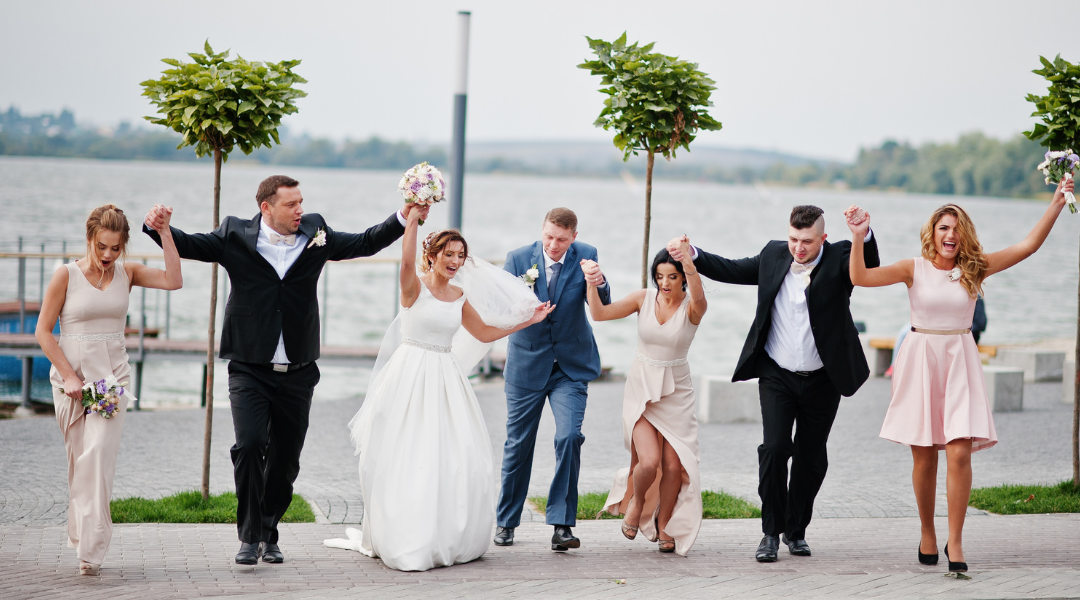 Wedding Guest Guide for Men: What to Wear to a Wedding
Wedding season is approaching fast! This celebration is often one of the most fun events of the year, but figuring out what to wear can be stressful. Have you ever received an invitation with a dress code you had no idea how to follow? With options such as black tie, cocktail attire, and semi-formal, it can be confusing to know how to dress. You may be asking yourself, "what will others be wearing?" or "what accessories are appropriate?" Don't stress- we've put together a guide of the most popular wedding dress codes and how to dress for each! Follow our style tips to feel confident and look your best on the big day.
White Tie
This is the most formal wedding attire possible. This dress code is reserved for the most elegant occasions, such as White House state dinners or award shows, so going to a wedding with this designation is rare. As the name suggests, you should wear a tuxedo with tails and all white accessories: including a tie or bow tie, vest and dress shirt. You will want to look as formal as possible, so wearing studs and cufflinks is a good idea.
Black Tie
Black tie weddings are the next most formal wedding dress code. Usually taking place in the evening, you must wear a tuxedo to this type of wedding. Accessories should be black and include bow tie, black vest, and leather shoes. Below are a few example items that would pair well with your tuxedo at a black tie wedding.
Formal Attire
Formal attire is slightly less formal than black tie weddings. For this event, you are given the option to wear a tuxedo or suit. A dark suit with jacket, white shirt, and tie are acceptable for a formal wedding.
Cocktail Attire
This attire falls between formal and semi-formal dress. A mix between casual and elegant, you should dress more formally than a day wedding but more casual than formal evening wear. At this event you should wear a suit and jacket but a tuxedo is not necessary. You have a little more freedom with your suit here too, you can wear dress pants and a blazer that are different colors (but don't wear any colors that are too bright, cocktail colors are generally darker!). Make sure you are wearing a collared shirt and a tie too. Just remember- you want to look polished but don't need to wear something overly elegant.
Semi-formal Attire
The main way this attire differentiates between the previous dress code is that for semi-formal attire the tie and jacket are optional. You should still wear a collared shirt and slacks, but you have more options for colors as well. Make sure you are dressing for the time of day the wedding takes place. Wear darker colors for more formal evening weddings and try light colors for a daytime ceremony. This attire allows you to be more comfortable, but make sure you are still dressing well for the occasion! Check out our semi-formal wedding attire for men blog to see more!
Casual Attire
Attending a casual wedding will most likely be held outdoors: on a beach, for example. These weddings are more laid back with the dress code. However, you should not dress everyday casual! Dress pants, chinos or even khakis with a collared shirt are appropriate. Feel free to add some accessories such as a belt or pair of suspenders to complete your look! Read our blog to dive deeper into casual wedding attire.
Destination Weddings
A destination wedding is usually in a warm, maybe even tropical, location. You should dress comfortably but still formal. These weddings give you the option to wear colorful suits and accessories and Trafalgar carries multiple items that will add a pop of color to your next destination wedding. But if you're not comfortable wearing a lot of color, don't worry! Try wearing a light gray or tan suit with white accessories instead.
Ensure you're ready for the weekend getaway with the right organization items. Check out our travel products to store all your personal items and make your trip as convenient as possible!
Spring/Summer Weddings
If you're planning to attend a spring or summer wedding, wear a lighter color suit. Not only will this look better in photos, but these colors will reflect the sun and keep you cooler! Many seasonal weddings take place outside, so try to wear light weight fabrics and less layers- save your vest for a winter wedding! You can also accessorize with bold colors to add a pop of color to your outfit.
Autumn/Winter Weddings
While attending an autumn and winter wedding, choose a darker color suit for the occasion. Accessorize with neutral and seasonal colors. Seasonal colors can include navy, burgundy and olive. You can also play around with different fabrics like wool or velvet for a textured look.