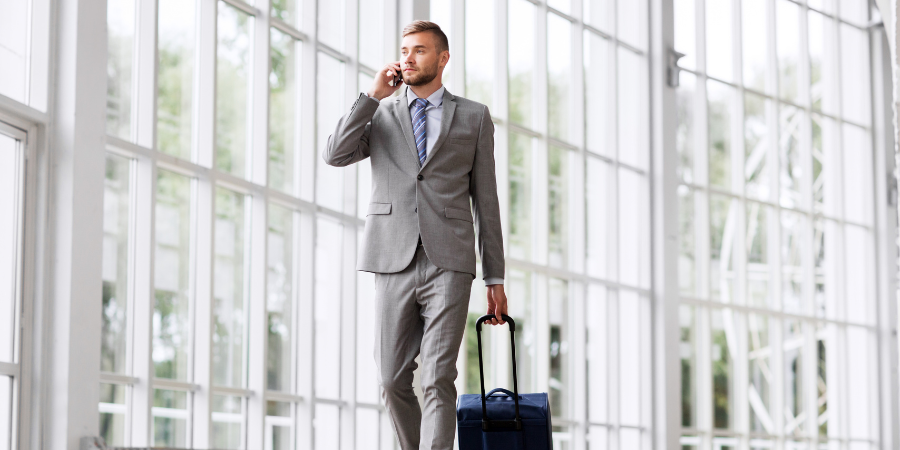 How to Pack for a Business Trip
Excited for your upcoming business trip but not looking forward to packing?  It can be hard to know where to start and what to pack without a guide. Here at Trafalgar, we've put together a list of recommended clothing basics, essential travel items, and also provided some packing tips from the experts to make your trip a breeze. The average length of a domestic business trip in the United States is three days, so keep reading to make sure you don't leave anything important at home!
Best Luggage for Business Travel
Investing in a travel bag for work is essential; duffle bags can look unprofessional and large suitcases are too bulky for a short trip. When packing for a work trip, carry-on-sized luggage should be all you need plus a personal item such as a leather backpack or briefcase. This will give you plenty of space to keep all your items organized.
Make sure your bags match your business professional look with dark colors and high quality materials. For your personal item, we recommend a bag that is
 both convenient and spacious enough to fit your essentials.
How to Pack Your Laptop for Travel
Always remember to pack your laptop in your personal bag with a dedicated laptop sleeve for protection. If you're using a bag that doesn't have a designated laptop compartment, invest in a laptop sleeve. If you need to keep it in your carry on, remember to take it out before stowing your bag in the overhead compartment so you can get some work done during your flight. 
 We highly recommend never putting your laptop in a checked bag! Doing so puts it at risk of being broken, lost, or stolen during the journey.
Men's Business Travel Wardrobe
When packing for just a few days of travel, it's best to bring versatile clothing that can be worn for business and casual outings. Although some items will differ depending on your style and itinerary, below is a list of basics. (Make sure if you're traveling for a longer period of time that you bring a few more shirts and pants!)
2 dress tops

1 pair of dress pants

1 matching suit jacket

Pocket square and tie if needed

1 casual shirt

1 pair of jeans or khakis

1-2 sets of pjs/loungewear

1 pair of socks/ underwear for every day

Undershirts (if desired)

Simple dress belt (try a

reversible belt

to go with any outfit)

2 pairs of shoes- 1 dress, 1 causal/athletic  

Workout clothes (optional)
Other Packing Essentials for a Work Trip
Basic toiletries are a must-have such as a toothbrush and toothpaste, shampoo and conditioner, deodorant, soap, and a razor. If you're flying make sure to buy travel-size items. Keep your items organized by storing them in a zippered travel kit.
You will also want to bring a few essential electronics. Keep your phone and laptop in a convenient place to use when you need, and keep their chargers nearby too. Bringing headphones for the plane will also make your flight much more enjoyable.
Lastly, don't forget any medications!
More Packing Tips
It's important to make sure you have enough room to bring all your essentials, but you should also check to make sure your bag won't go over any airline weight restrictions. Check for specifications from your airline before you start packing.
Since you're only bringing a carry-on, it's important to pack your bag efficiently. Rolling your clothes not only saves space, but also helps reduce wrinkles. Just make sure when you arrive to immediately hang your clothes in the closet. Your hotel should have an iron for any touchups if necessary.
If you need to bring any bulky items, such as a winter jacket or boots, plan to wear them to the airport so they don't take up valuable space in your luggage.
We recommend writing a packing checklist so you don't forget anything. Use our list above and start brainstorming specifics a couple days before so you're not panicked the night before you leave while trying to remember everything. Calm your travel anxieties by feeling confident that you packed everything you need!