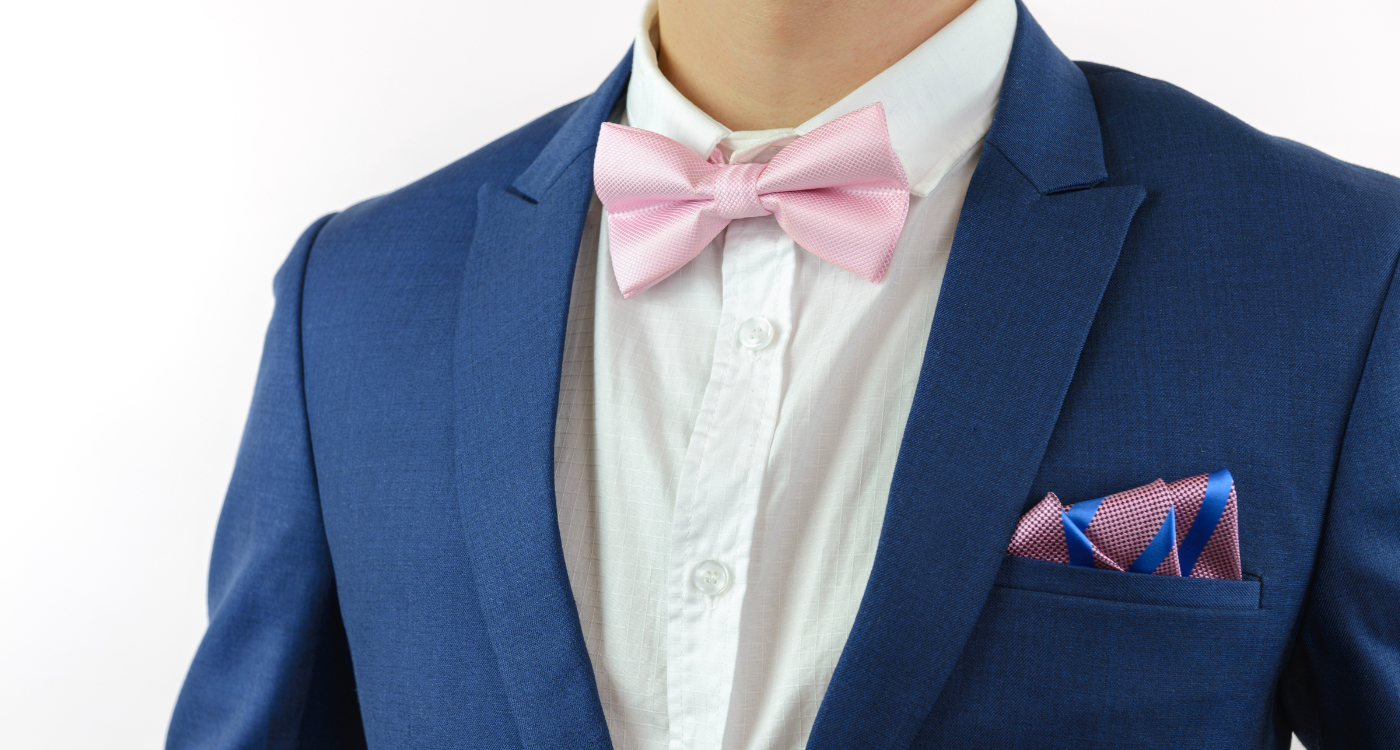 How to Wear a Pocket Square
When your entire look is crafted to make the right impression, it's the small accessories that make the difference. Every piece of a gentleman's look must be sophisticated and neat. Not only should your clothing, belt, and shoes complement each other, but a matching pocket square will elevate your outfit to the next level. You have the option of just ignoring the small pocket on the upper left of your suit jacket, but with a few tips from the experts, this timeless accessory will add the finishing touch to your look. 
What are Pocket Square Rules?
Dos
Pocket squares should complement

your shirt and tie.

Choose a secondary color from your shirt or tie as the color for your pocket square.

Consider the occasion when deciding on a fold. Conservative folds are best for formal occasions but flashy folds can be a fun option for more casual outfits.
Don'ts
Never add a pocket square to your overcoat, coat, or shirt. It should only be added to your suit or jacket. 

Don't match your pocket square to your tie or bow tie exactly! It may be your first instinct to exactly match your accessories, but by today's fashion standards this is a definite no. 

Avoid loud patterns that steal the spotlight; solid colors and simple patterns work best.
A lot of men who are new to wearing pocket squares may wonder if there are certain occasions where a pocket square should be avoided. But the honest answer is there are no rules restricting when you can or cannot wear a pocket square. Anytime you put on a suit jacket you can add this accessory to elevate your look, just make sure you consider the occasion when deciding how to wear it. You should avoid flashy colors or patterns when attending somber events such as a funeral or more formal events like a wedding. But feel free to get creative with your patterns or folds for more casual events! If you're still unsure what to wear, a white pocket square is a safe choice because it will go with any suit or color combination.
Here at Trafalgar, we recommend silk pocket squares. The smooth, shimmering material has the most luxurious look. They are also ultra-thin so they won't cause a bulge in your jacket pocket and are easy to store. Check out our best selling solid color pocket squares or one of our fun prints.
How to Fold a Pocket Square
There are many different ways to wear a pocket square, so we know it can be a little overwhelming to choose which style to try. We've picked three basic folds below that anyone can master by following these simple instructions.
The first fold is the presidential fold, also known as the square fold. Step 1: Start by laying your pocket square flat in a square orientation and bring the left side to the right side, making a rectangle. Step 2: Bring the bottom edge two-thirds to the top. Remember- don't fold it all the way!
The second fold is the triangle fold: Step 1: Place face down in a diamond orientation and bring the bottom point to the top point, making a triangle. Step 2: Fold right point toward left halfway and fold the left point to the right corner
Lastly, we'll look at the two-point fold: Step 1: Similar to the triangle fold, place face down in a diamond orientation. Bring the bottom point slightly to the side of the top, making two points. Step 2: Fold left point toward right point halfway then fold the right point to the left side.
Now that you understand the basics about this timeless accessory, find your perfect match and shop our pocket square collection!