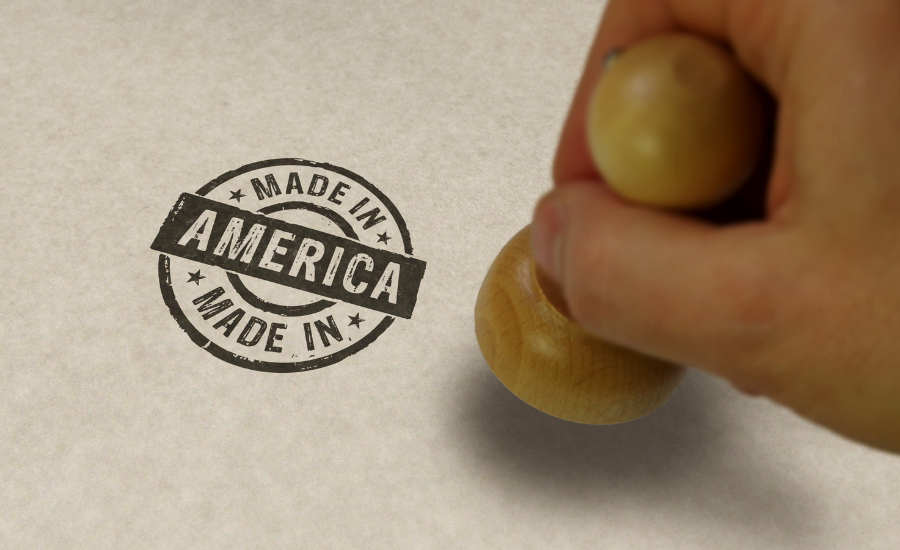 Product Feature: Made in America Shop
Trafalgar is proud to sell over 70 products handcrafted in The United States. With a wide range of accessories, you can ensure that every piece of your outfit supports American workers. Demonstrate that you are a man of taste willing to create your own personalized fashion statement with unique leathers such as exotic alligator, crocodile, and lizard. These timeless items also make thoughtful gifts and can be shown off at weddings, holiday parties, business meetings, and date nights!
Our master American craftsmen ensure that each luxury item features only the finest handiwork that will stand the test of time. When properly cared for, each accessory will remain an essential part of your wardrobe for years to come. Below are just a few of our favorite items from this collection.
Belts, Buckles & Straps
The Caelen Plaid Embossed Leather Belt is a great addition to your wardrobe. The subtle plaid embossed pattern adds a bit of character to any outfit. Intricate details are what make a belt so special, and this pattern is sure to be the final touch to elevate your look. This belt compliments all pants including jeans, khakis, slacks or a suit making it very versatile.
The Windsor Genuine Lizard belt is the definition of class and sophistication. Pair this accessory with a suit and tie to feel a sense of power and confidence at your next big meeting or event. Stand tall with this made in the U.S.A. belt and know you are looking your best every time you wear it. The Windsor is available in a variety of colors and comes with both a gold and silver buckle that can be interchanged depending on your outfit for the day!
This beautiful glazed 30mm Belt Strap and matching keeper is made of genuine Alligator. This unique accessory is sure to make your outfit stand out with a touch of elevated style. There is no buckle strap which allows you to pair it with a plaque buckle of your choice and further customize your look.
The luxurious and polished appearance of Trafalgar's 30mm Scallop Edge Plaque Belt Buckle adds a level of sophistication and class to any wardrobe. Designed to fit most 30mm straps, this classic buckle crafted from rhodium over brass will elevate your outfit. You can make it even more special with a personalized monogram that makes this a perfect accessory for gift giving. It's also available in 24K Gold over brass.
This handsome 24K Gold Over Brass Buckle features a stunning pinstripe design. Also available in Rhodium, this buckle finishes off any strap and takes it to the next level of sophistication. The buckle alone has a commanding design, but it also comes with the option to be engraved in order to make it even more personal. Add this one of a kind piece to your wardrobe today!
Braces
Whether you are dressing up for a business meeting, event, or presentation, these Oliver Bold Stripe Braces will be the perfect accessory for your outfit. Made of polyester and elastodiene, the suspenders are fully adjustable and stretch for a comfortable, custom fit. Convertible suspenders are also convenient because you can attach them to your pants with the button ends or clip ends depending on your preference.
These Hudson Solid Button End Braces are lightweight and made of 100% nylon. They are very versatile and can easily accessorize both your casual or formal wardrobe. Featuring a y-back styling and button ends, they even come with a set of 6 buttons to be sewn to your pants for convenience. The polished nickel adjusters along with the elastic back strap provide you with the perfect fit and comfort.
From the Sutton collection, these Pure Silk Formal End Braces will take your outfit to the next level by adding a touch of elegance and class to your suit or tuxedo. Available in a variety of colors from royal green, to teal, to purple, these suspenders will add a pop of color and sophistication to your look. Pair them with a classic white shirt and black dress pants to ensure they stand out!
Wallets and Money Clips

This exquisite Genuine Crocodile Bi-Fold Wallet is a true piece of sophistication and class. Handcrafted and lined with beautiful leather, this wallet features 6 interior card slots, 2 slip pockets, a full-length bill slot, and even a bonus slip pocket on the back exterior of the wallet. This accessory is fantastic for the dapper businessman, executive, or anyone looking to elevate their look.
This sleek 25mm Sterling Silver Engine Turned Money Clip features a stunning etched detailed design. Made of sterling silver, this handsome clip makes an impressive statement. Keep your money easily accessible and organized with this one of a kind accessory. 
Stand out from the crowd with this Genuine Alligator Skin Magnetic Money Clip. Constructed with an alligator skin exterior and interior cow leather, this heavy-duty magnet will securely hold multiple dollar bills and credit cards all in place.
Other Small Accessories 
This genuine Onyx Cufflinks and Studs Set are a handsome finishing touch to any tuxedo or suit. Strong and masculine, this formal set will catch the eye of all who come into contact with you. Made of Genuine onyx and available in either rhodium or 24K gold, this set comes with two cufflinks and four studs. They are the perfect accessories for weddings, Christmas and New Year's Eve parties, graduations, interviews, and charity events and more!
Get rid of those plastic collar stays that come with your shirts and replace them with these fantastic Brass Collar Stays. Smooth edges keep the collar's shape while protecting the shirt from any damage or harm from those other pointed stays. These stays elevate your look and are easy to use, and give you that polished look you are looking to achieve. Made of 100% brass, this set comes with 18 metal collar stays in assorted sizes and a plastic tube for easy storage.