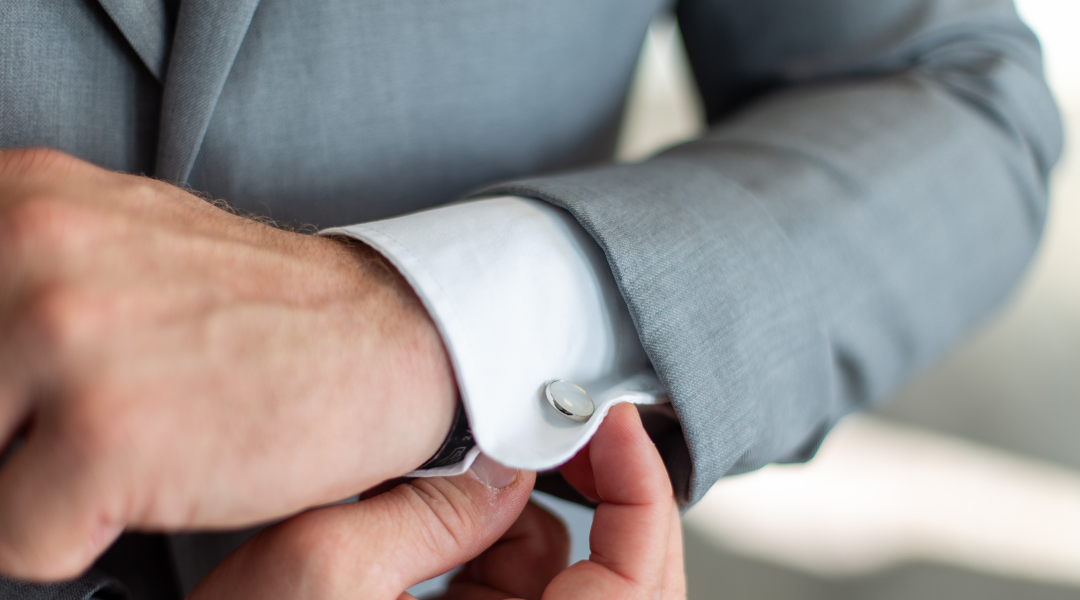 Men's Jewelry Guide: Most Common Pieces and How to Wear
When your entire look is crafted to be unique and personal to you, it's the small accessories that make the difference. Not only should your clothing, belt, and shoes complement each other, but jewelry items such as cufflinks, a tie bar, and even a leather bracelet will take your outfit to the next level. This fine jewelry also makes thoughtful gifts for the holiday season. 
Find the perfect men's jewelry items to elevate your formal attire below! We'll include a few of the most common jewelry pieces for men and how to wear them.
Formal Sets
Great for weddings, holidays, interviews, charity events, and more, formal sets create a handsome and elegant appearance. Composed of two cufflinks and four studs, our formal sets will pair perfectly with any suit or tuxedo. Subtle yet classy, they also make a thoughtful gift for the holiday season, birthdays, anniversaries, and more! If you don't need a whole set and are just looking for separate cufflinks or studs, we have those options too.
Studs are worn by removing and replacing the classic buttons down the front of your dress shirt. Attention to the tiniest details create a handsome and polished look, and studs will give your formal attire an air of sophistication that makes you stand out.
Cufflinks are worn exactly as their name suggests, they are inserted into the holes in your dress shirts sleeve cuffs to keep them attached. Classic and distinguished, these cufflinks will look fantastic with any suit or tuxedo for any formal occasion.
Tie Accessories
Positioned between the third and fourth buttons on your dress shirt, the tie bar is the perfect accessory to give your suit and tie a dapper look. Besides holding your tie in place, this bar gives you a polished look making you stand out at any occasion you wear this too.
A tie chain is worn around the necktie and secured by attaching it to a shirt button. The little details make you stand out in the crowd, and this tie chain is a special touch people will remember. Elevate your formalwear with a unique, sophisticated accessory.
Tie tacks will add an accent to your formal wear while also securing your necktie. It is easy to use, simply insert the bar through the third buttonhole on your shirt and then push the post through both sections of your tie to pin it to your dress shirt. Clean and polished, this small detail will add the finishing touch to your look.
Leather Bracelets
Trafalgar leather bracelets are a great way to add character to any man's outfit. From casual to formal attire, you can elevate your look with a stunning bracelet that will catch the eyes of those around you. Made from durable leather, this bracelet looks great with a suit and tie or a polo and jeans for any event you may be headed to. These handsome leather bracelets also make a great gift for the hard-to-buy gentleman in your life.