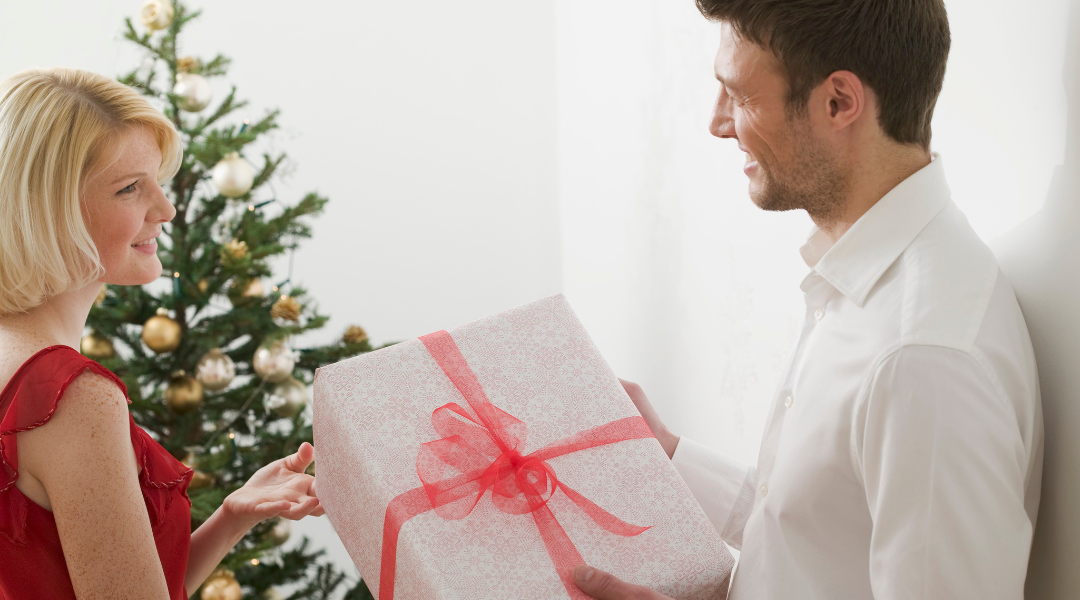 Men's 2022 Holiday Gift Guide
The holiday season is just around the corner which means it's time to start shopping for your loved ones. Whether he's your family member, special someone, or friend, men can be tricky to shop for. We've put together four gift guides to help you narrow down your search for the perfect present that will show him how much you care. There are four gift guides to browse including stocking stuffers, gifts under $100, gifts under $200, and premium gifts. We'll give you an overview of each guide below!
Stocking stuffers may be small, but they can still be meaningful. Sometimes the best gifts come in small packages, and at Trafalgar every accessory is handcrafted with the highest quality materials. You can feel confident your gift is designed to last and will be used for years to come.
The simply stated Detailed Rhodium Knot Cufflinks can be effortlessly paired with any look and will take his attire to the next level. This is an especially great gift for any man that has a special event coming up they will need to look their best for - such as a wedding, interview, or graduation.
Our new line of leather bracelets are made from durable leather and designed to add some character to his look. The versatile Two Band Braided Leather Bracelet will look great with a suit and tie or a polo and jeans. This is a unique gift he will want to wear everyday.
For most adults, finding a pair of socks in your stocking is almost a tradition. This year, gift him a luxury dress sock made from the finest materials that is sure to become his favorite. Trafalgar socks can be paired with suits, tuxedos, khakis and even just a pair of jeans.
If you want to give him a luxury gift without going over budget, we've put together a list of items below $100. Even though these gifts don't break the bank, they are still made from the highest quality materials and exude luxury.
Featuring a plaid embossed leather bi-fold design, this Caelen Wallet is perfect for the gentleman who appreciates fine details. It also features RFID technology to keep their personal information safe from digital pickpockets.
Every well dressed man needs an elegant bow tie. This sophisticated accessory from the sutton collection will take his formal attire to the next level. Available in multiple classic colors, you can gift him his favorite.
The Gatsby 12 inch Solid Silk Pocket Square is the elegant finishing touch to any dapper outfit. This set includes three classic, elegant colors so he can mix and match the perfect pocket square with any piece in his wardrobe.
If you're looking to spend a little more on his gift this year, our gifts under $200 list has a wide variety. From leather belts, to braces made from 100% silk, to luxury small accessories and jewelry, you will be sure to find something for everyone on your shopping list.
This timeless belt is essential for every man's wardrobe. Featuring handsome stitched accents and a sleek buckle, this classic leather belt is built for any occasion. The Cortina Belt comes in an assortment of different colors that will be a great finishing touch to any outfit.
Great for casual and formal wear, the Hudson Braces will become a staple in his wardrobe. Available in multiple colors, these are a great accessory to add a pop of color to his outfit. One of our most popular braces, they are lightweight, comfortable, and made from the highest quality materials.
This elegant compression buckle puts the finishing touch on any outfit and takes it to the next level. The plaque buckle alone is a commanding design, but take advantage of the option to engrave it to make it an even more personal gift.
Spoil that special someone this Holiday season with an array of premium gifts from Trafalgar. He will feel like a million bucks wearing our fine accessories made from the most distinct materials such as alligator, lizard, genuine leather, ostrich, shark and more. Elevate his wardrobe with exotic belts, formal braces, silk accessories, and leather goods.
This luxury dress belt is one of our finest accessories. Made from genuine Louisiana alligator skin, the natural characteristics of the leather are featured with a light glaze on top for an attractive, sleek look. It also comes with two interchangeable buckles in gold and silver so he can mix and match with a variety of outfits.
This is the complete, best-selling, sutton collection which includes all the pieces he needs to look his best. It features a suspender, bow tie, necktie, and pocket square made from 100% silk. This classic black set set will give him every essential accessory to complete his formal attire. 
Set him up for success with this sophisticated briefcase. Not only will he stand out in professional settings, but it also contains multiple slip and zippered pockets to keep him organized. Made from the finest leather, you can be certain he will use this briefcase for years to come.
Shop all men's accessories at TrafalgarStore.com.