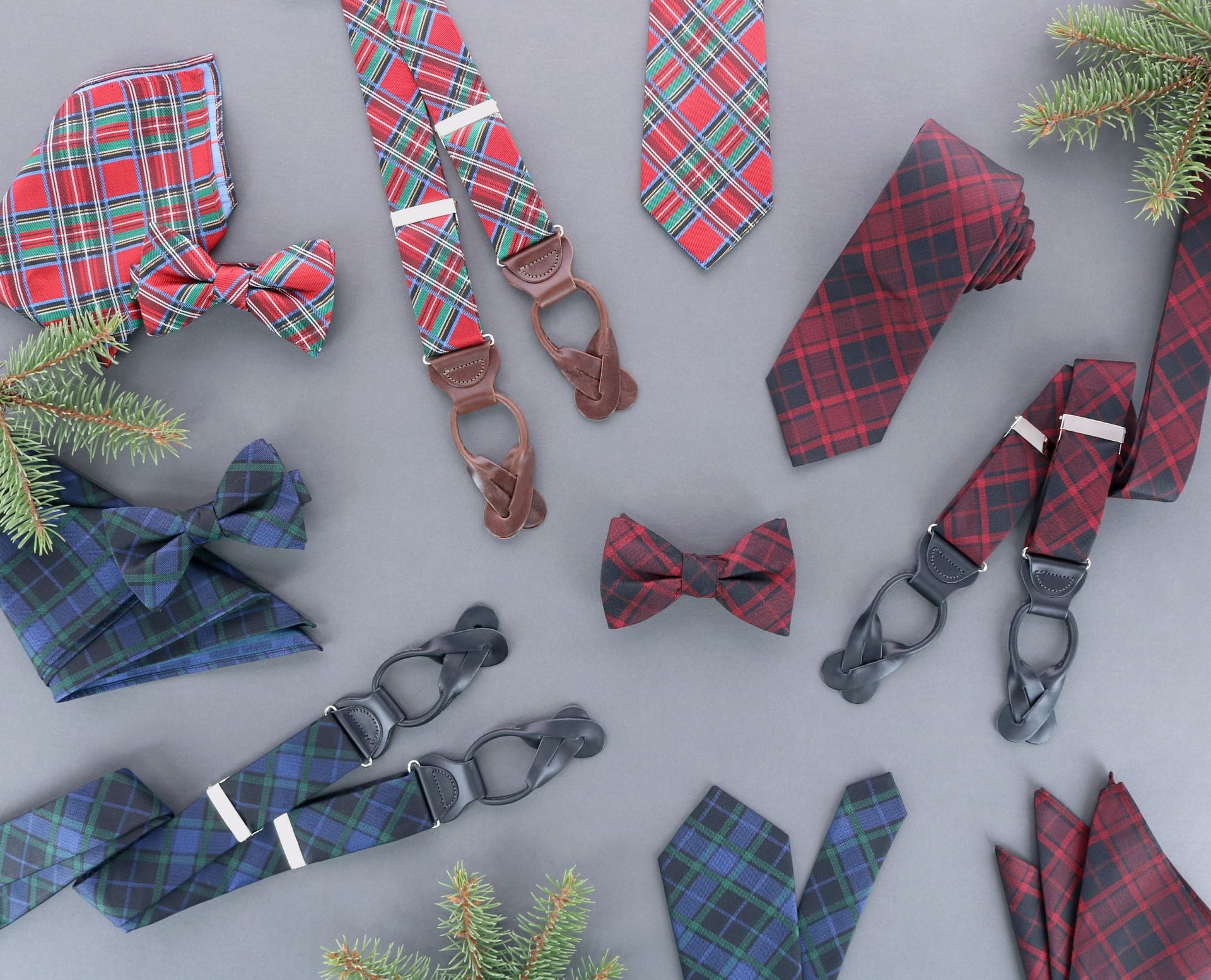 How to Style the Trafalgar 2022 Holiday Collection
The Holiday season is almost here! This is the best time of the year to spend with the people you love. At your next holiday event, dress to impress everyone around you and show off your festive cheer with our new holiday collection. Designed to make you look and feel your best, these timeless pieces will become your new go to holiday accessories for years to come.
The collection includes button-end braces with a matching bow tie, necktie, and pocket square. It's available in three distinct color options: Nicholas Tartan Plaid, Ives Green and Navy Blackwatch Plaid, and Kincade Red Blackwatch Plaid. Handcrafted from 100% silk and full grain leather, these distinguished accessories will take your holiday attire to the next level. Below we'll show off each collection and recommend style tips!
The Kincade Collection
The Kincade Collection features a modern take on buffalo plaid perfect for elevating your fall and winter wardrobe. For your next formal event, we recommend pairing the deep red and black colors with a black tuxedo or gray suit for a sharp look.  Then set your day up for success at the office by wearing the braces and bow tie with a crisp white dress shirt. Each piece in the collection is perfect for days in the office, holiday parties, and more!
The Nicholas Collection 
Create a festive look with the Nicholas Collection, featuring a timeless tartan plaid pattern that you'll enjoy wearing year after year. Brighten up your gray or navy suit with these fine accessories for an important business meeting, church, or to celebrate Christmas Day. If you're searching for a festive look for family pictures, add a few of these pieces to your outfit. Try wearing a sweater with the necktie and dress shirt collar peeking out from underneath or the braces with a white dress shirt and khakis.
The Ives Collection
The Ives Collection features a trendy blue and green blackwatch plaid design that's sure to become your favorite for the fall and winter seasons! Effortlessly mix and match the pieces in the Ives Collection with your traditional black, navy, or gray formalwear. Make sure you add a pocket square to put the finishing touch on your suit. For a distinguished look, try pairing all black formalwear with this collection to make the colors pop. Wear the bow tie or necktie with your favorite pair of nice jeans for a night out on the town, or wear the whole collection for your next formal event. You'll love the versatility of these accessories and feel confident you are dressed your best!