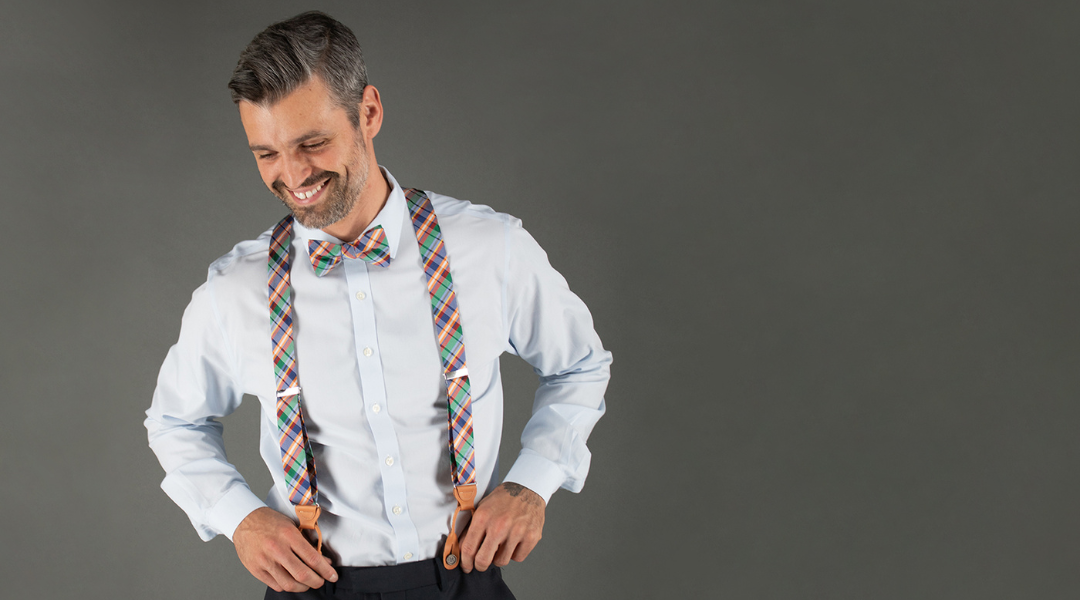 How to Wear Suspenders in 2023
Are Suspenders Still in Style?
Suspenders (also known as braces) have a long history in the fashion world but aren't always as common place today as in the past. As a result, you may be asking yourself, "are suspenders still in style?" The answer is yes! 
Modern day suspenders look different than suspenders of the past, but they are still a fashionable accessory designed to elevate your casual or formal look. Keep reading to learn about the basic types of suspenders and how to wear them.
What are the Different Types of Suspender Ends?
There are a few different types of ends to attach your suspenders to your pants.
 As the name suggests, formal ends are best to wear with your tuxedo or suit. The fabric ends button into your dress pants.
Button ends also attach to the buttons in your pants and are good for formal occasions, but they are made from leather. 
Clip ends are the most casual type: the metal clips onto your pants and do not require your pants to have buttons. This means you can wear these suspenders with any type of pants, even jeans.
Convertible suspenders features both button and clip ends that can be easily switched between. They are great for getting a more formal look with the button ends, but also can be easily interchanged with the metal clips which give you the option to wear the suspenders with any pair of pants.
Add Some Character to Your Suit or Tux
Suspenders are still very popular for today's formal events. They will add the finishing touch to your tuxedo or add some character to your suit. They can be great for formal events such as weddings or charity events, but they can also enhance your business professional look.
Elevate Your Dress Shirt
Skip the boring jacket and let your suspenders steal the show. With a crisp dress shirt tucked into your dress pants, suspenders will add the finishing touch to your look. Wear this to the office, church, or even out for date night. 
Keep it Casual with Jeans
Suspenders aren't just a formal accessory, you can add them to your everyday outfits as well! Clip end suspenders are more casual and allow the accessory to be easily attached to your khakis or jeans. Try pairing them with a white shirt or even a flannel for a fun everyday look.
Add Bold Colors and Patterns
Suspenders come in a variety of colors and patterns to upgrade your look and make your outfit fit your personality. Try wearing a bold solid suspender to add a pop of color, you can find almost every color in our Sutton Collection. You can also try a more subtle pattern, such as stripes or polka dots, or even find a unique pattern with anything from animals to holidays to landscapes and much more. You are sure to find a pattern that reflects your personal style and passions.
So what are you waiting for? Add a pair of suspenders to your wardrobe today! Shop all suspenders today.