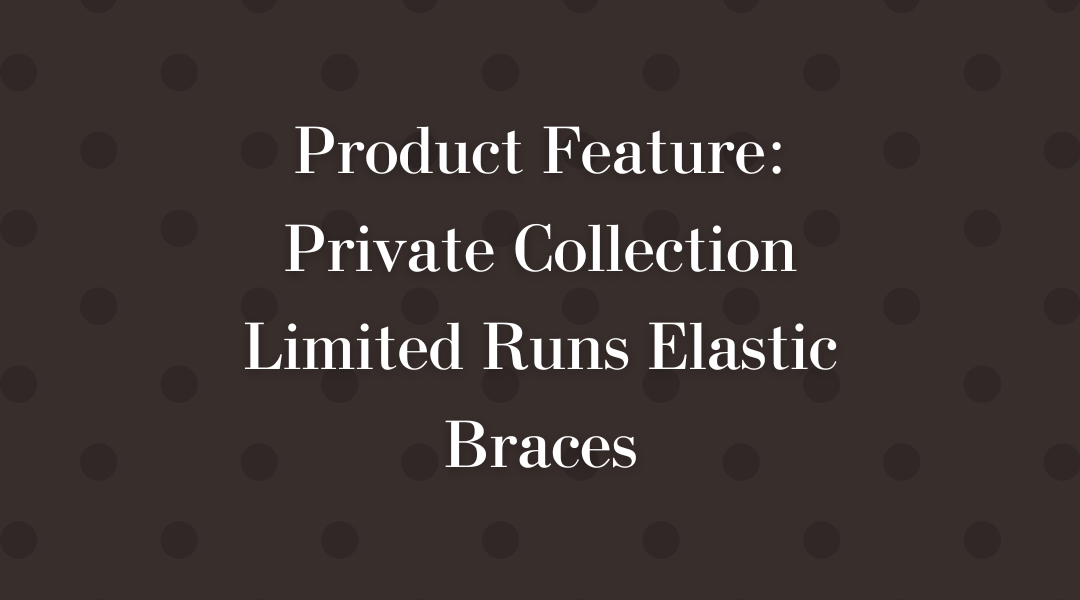 Product Feature: Private Collection Limited Runs Elastic Braces
Here at Trafalgar, we are thrilled to announce the arrival of our Private Collection Limited Runs! Bring your wardrobe to the next level with these dapper button end braces. Grab a pair to add to your collection while you can because once they sell out, they retire for good!
Hand cut and made in the United States, these braces feature an elastic back strap that moves with you for added comfort making it excellent for all-day wear. These handsome braces are adjustable up to 46 inches and would look impressive with any tuxedo, suit, dress slacks or even a pair of jeans!
Lucy's Diamonds Patterned Elastic Braces
Featured in handsome colors and repeated diamond patterns, the Lucy's Diamonds Patterned Elastic braces are truly one of a kind. A pair of these braces will add a great pop of color to any outfit. 
Pan Pin Dotted Elastic Braces
The Pan Pin Dotted Elastic braces are a fantastic accessory that is sure to bring your attire to the next level. With only a limited amount available, these brown with yellow pin dot braces will not be around for long! These suspenders are great for business meetings, weddings and a night on the town!
Dapper Dan Center Ribbed Stripe Elastic Braces
Add a pop of color and sophistication to your look with our Dapper Dan Center Ribbed Stripe Elastic braces. Featured in classic, handsome colors, these suspenders are great for weddings, interviews, business meetings and more.
Trafalgar suspenders are crafted to stand the test of time. When properly cared for, each pair will remain an essential part of your wardrobe for years to come. Shop Trafalgar's suspenders collection today!