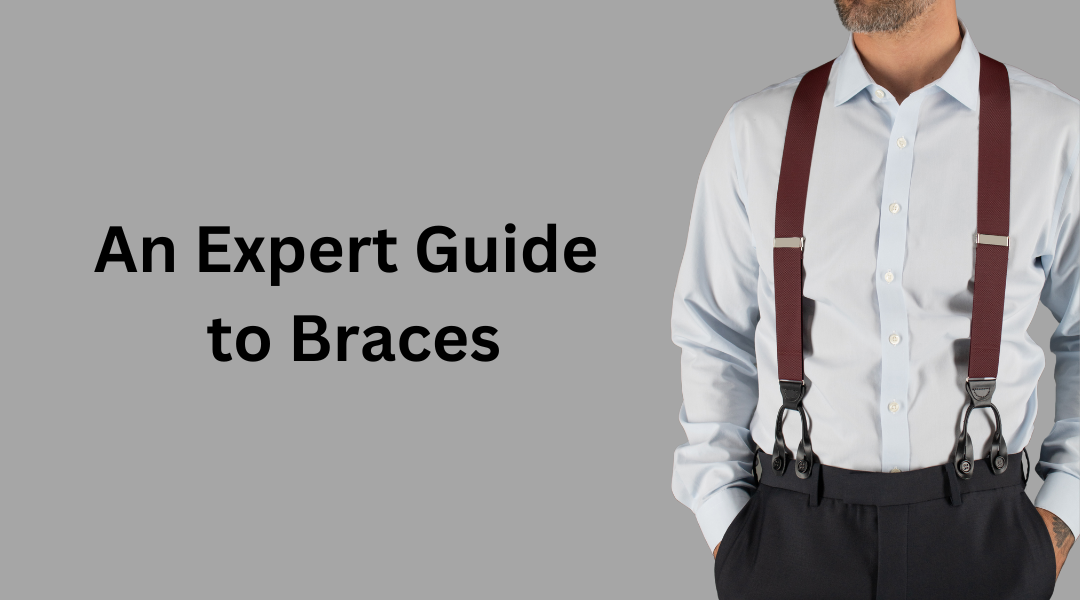 An Expert Guide to Braces
Choosing the right size of braces can be challenging if you're unsure of what to get. But there's no need to stress, we are the experts! We'll explain the different types of braces and how to measure yourself properly. There are different types of braces including formal, button, and convertible braces that require a simple measuring technique.
Button/ Formal Braces
Button and formal braces are perfect for a traditional and classy look. Button braces are more common and have leather ends, while formal braces have fabric ends that give a more polished look. Both of these types of braces functionally work the same way and are measured by using the same technique.
Start by positioning a soft tape measure on the back end of your pants from the middle of the waistband where the brace will button. Then pull the tape measurer over your shoulder and back around to the front, ending where your braces would button on. This measurement will give you the length needed for your braces (Ex: 44inches). 
The best way to measure is by using a soft tape measure. Don't have one? Use a string instead and lay it down on a table to measure with a ruler or even just a flexible tape measure!
Convertible Braces
Convertible braces offer the option to attach your suspenders with either a button or a clip. Clips are a less traditional option, but are more convenient to attach to pants as they do not require a button.
For convertible braces, you can measure them using the same technique as explained above. Using your tape measure start at the back of your pants in the middle of the waistband, run it over the opposite shoulder, and down to the front where your braces will attach.
Choose Your Favorite Design
Now comes the fun part, you can choose from either an array of classic looks such as the Regal 35mm Formal Braces (pictured below on left) or spice up your outfit with a printed design instead like the Sobee Silk Button End Braces (pictured below on right).Trafalgar has a wide range of options for you to choose from for any special occasion! Shop all braces now!
No Sew Button End Braces
If your slacks don't have any buttons, don't worry, we've got you covered! Trafalgar carries affordable, sophisticated Moveable No Sew Button End Brace Clips. You will even be able to easily move these from one pair of pants to another with absolutely no damage! Buttons come in your choice of black, brushed silver, or antique brass.
Other Tips and Tricks
It is crucial to know that there is no such thing as one size fits all- never listen to stores who try to tell you that! Every person's body is different therefore you must find your true match. Another key fact about braces is that they can only be shortened and never lengthened, so make sure to get a size that you are able to adjust if needed. It is always safer to round up because you can make them shorter!
Now that you understand the basics about braces, head over to TrafalgarStore.com to find your perfect pair!