This Just In
Discover new arrivals for the season.
Most Wanted
Meet our tried and true best sellers.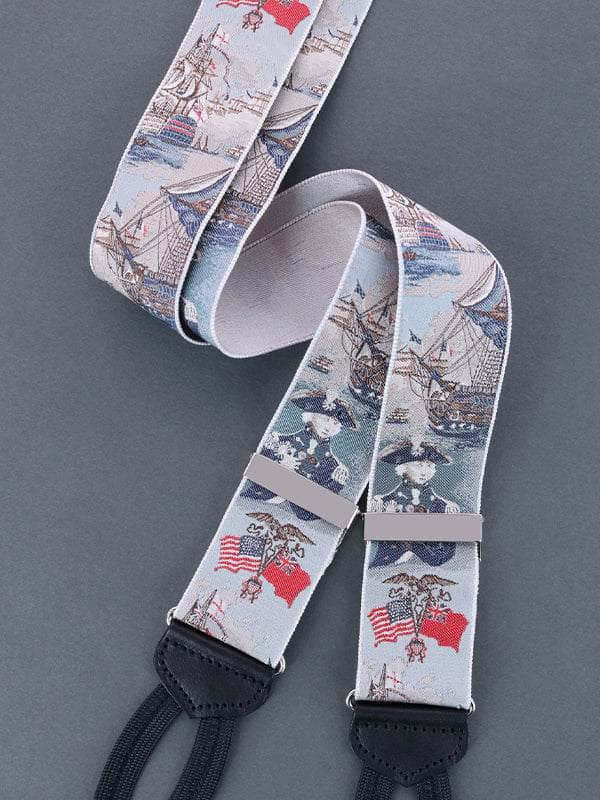 Our Limited Edition Braces are back!
Introducing The Commander, the newest addition to our highly exclusive Limited Edition Braces Collection.
Braces from our Limited Edition Collection feature sophisticated ribbons made from silk yarns that are hand-loomed by highly skilled craftsmen in France. The looms used to craft these braces range in age from 150 years old to more modern looms of the 21st century, and often use ancient techniques to weave the silk ribbons. The 100% woven silk ribbons are then hand cut and sewn in the United States and finished with hardware made in the UK.
These braces are made in limited quantities, in part, because even the finest weavers can only weave five yards of narrow silk fabric a day. When we say limited, we mean it! There are only 301 pieces of The Commander in our regular length and only 24 pieces of the Big and Tall version for a total of 325 pieces.
The Limited Edition Braces have established themselves as collectible and wearable works of art. The conversational braces feature intricate designs and are an elegant way to express your style and sense of humor. This particular brace sports a naval design that features the Commander, ships, and flags in a repeated pattern in a beautiful color palette of blue, red, brown, and cream.
Don't wait to make The Commander part of your collection!
SHOP NOW
The Gentleman's Guidebook
Here at Trafalgar, our mission is to help you craft a unique and personal look.

 

What could be a more ideal method to infuse a personal touch into your accessories than through monogramming?

 

Monogramming makes your item memorable and extra special while elevating your outfit!

Read more

Fall weddings have a unique charm, and dressing appropriately for this season can be a delightful experience. Here at Trafalgar, we have many handsome accessories for dressing appropriately for outdoor fall weddings, whether in a garden, vineyard, or rustic barn setting, we got you covered.

Read more