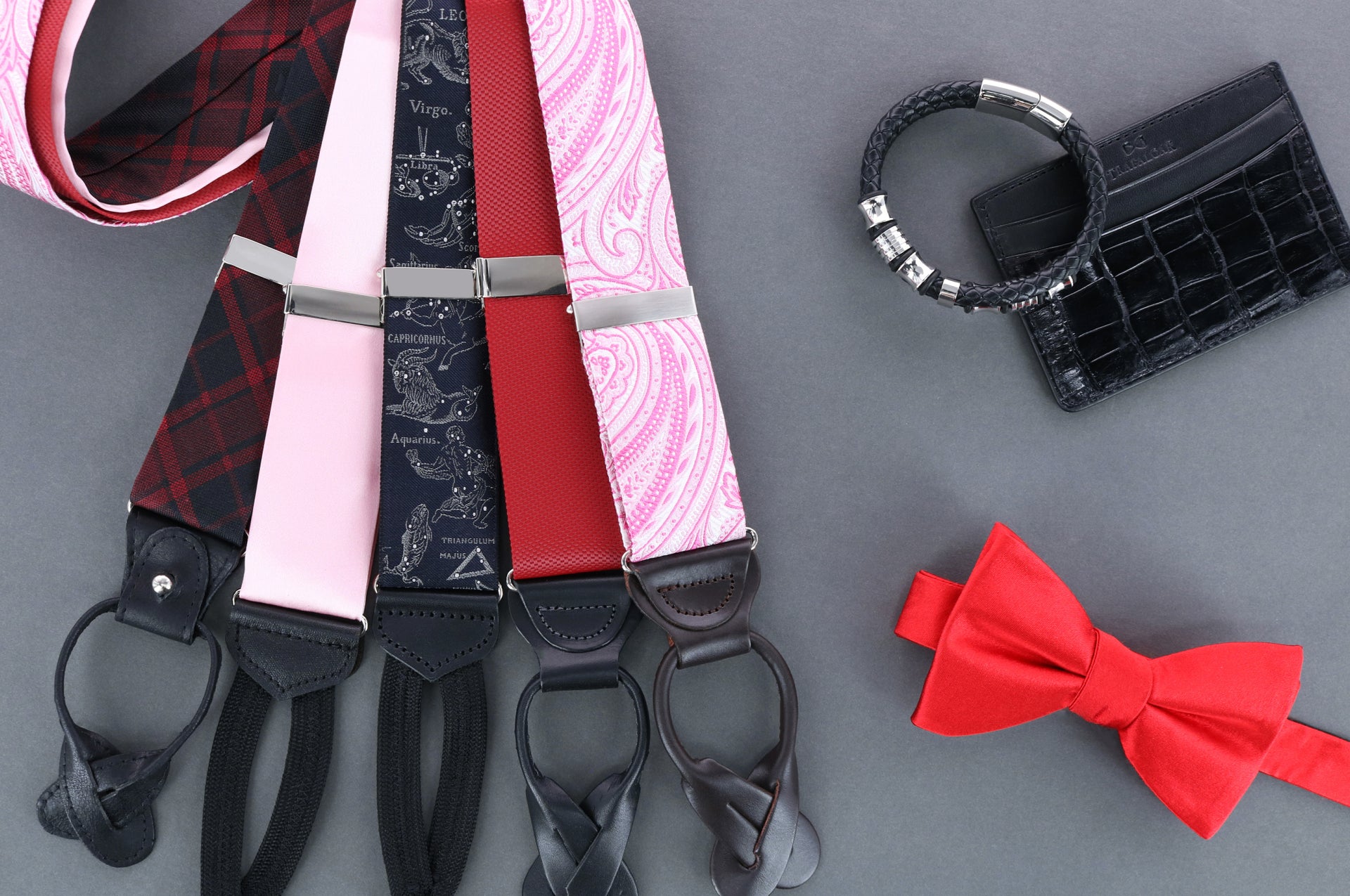 Valentine's Day Gift Guide for Men 2023
Valentine's Day is right around the corner and it can be hard to find the perfect gift for your man. Whether you have only been together for a short time or you have celebrated many holidays together, you want to get a gift that shows him how much you care. We curated a guide of Valentine's Day gifts and accessories on our website and we've highlighted a few of our favorite ideas below.
Broderick 32mm Leather Dress Belt
The Broderick Leather Dress Belt has a slim design to create a distinguished look. Available in multiple colors options with a beautiful silver buckle, this belt will make any outfit sleek and stylish. Pair with a suit or even a tuxedo and thie timeless dress belt will elevate your outfit completely
Detailed Knot Rhodium Cufflink Set
For the man that pays attention to the smallest details, this elegant cufflink set is the perfect gift. Crafted of Rhodium over Stainless Steel, the detailed knot design creates a sophisticated look. He will be able to wear them to his next important job interview, business meeting, formal event, or fancy date night.
Kincade Red Blackwatch Plaid Silk Bow Tie
A classy blackwatch plaid pattern with a modern twist, this bow tie will add a splash of color to his wardrobe. Made of 100% silk, you can feel confident knowing you are gifting him only the best.
Caelen Plaid Embossed RFID Leather Bi-Fold Wallet
Featuring a plaid embossed leather design, this bi-fold wallet is perfect for the gentleman who appreciates fine details. The interior features 4 card slots, 2 slip pockets, an ID slot, and a full-length bill slot to keep him organized. It also features RFID-protection to keep his personal information safe from hackers.
Add some flair to his wardrobe with this chic pin dot brace set. The braces feature silver hardware and a pin dot pattern that catches the eye and are fitting for any formal occasion such as parties or weddings.
Brushed Rhodium and Shiny Gold Tie Bar
This exquisite tie bar features brushed rhodium and gold accents, making it the perfect match for all watches and belt buckles. Besides holding his tie in place, this tie bar will give him a polished look that makes him stand out.
Carson Genuine Leather Snap Valet Tray
This valet tray is a convenient way to keep all his valuables in one place at home or while traveling. Laid flat, the valet tray is easy to travel with and takes up limited space in luggage. Snapped together, the tray is great for holding change, watch, keys, or any other objects you may have in your pocket throughout the day. This is a terrific way for him to stay organized at home, the office, or hotel rooms and makes for a unique gift.
The Gatsby 12 inch Solid Silk Pocket Square Trio
The Gatsby trio includes three classic colors of silk pocket squares measuring 12 x 12 inches. Made of pure silk woven into a perfect square, this accessory will add some class and pop of color to his suit or tuxedo. Perfect for weddings, business meetings, graduation, interviews, and holiday parties, this pocket square will add an air of sophistication to every outfit.
Shop the entire Valentine's Day accessories and gift guide!