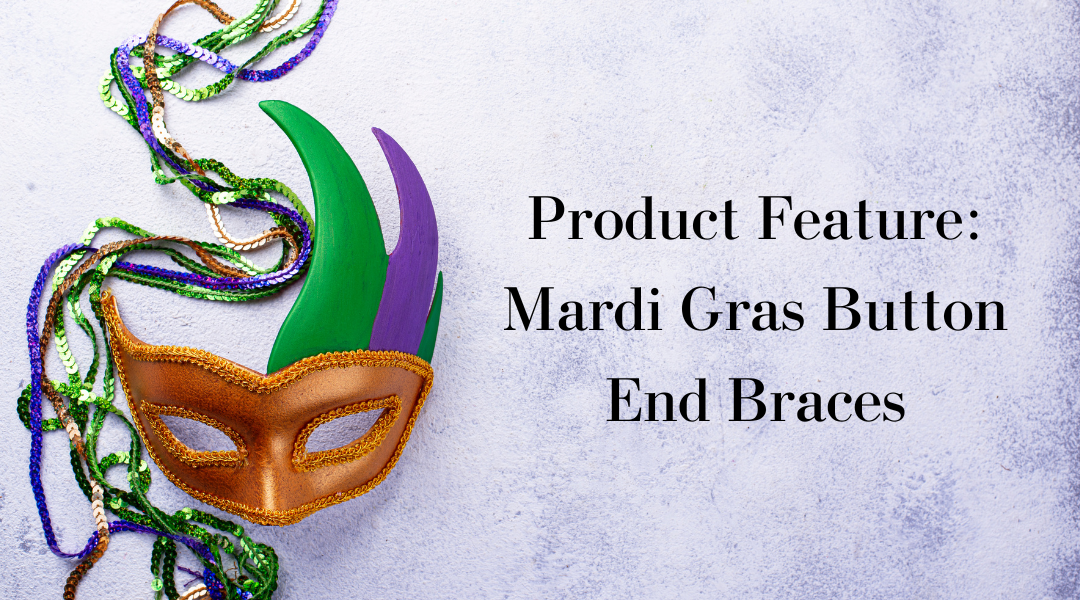 Product Feature: Mardi Gras Button End Braces
Trafalgar is excited to announce the arrival of our Mardi Gras Button End Braces for the 2023 season! Each brace is hand cut and sewn in Poland, so their quality is unmatched. Get yourself a pair of these attractive braces and show off your personality while looking professional.
These three button end braces are adjustable up to 48 inches and feature a Y-Back style with an elastic back strap. Made of 100% silk and full-grain leather, these braces are a work of art. The back patch and button ends are made from full-grain leather and have silver adjusters. These braces look impressive with any tuxedo, suit, dress slacks, or even a pair of jeans!
Toast The Night Away Silk Button End Braces
These handsome Toast The Night Away Silk braces feature all-inclusive hands raising a glass to toast the night away along with fun masks to represent Mardi Gras on blue silk. These braces are truly one of a kind and can also be worn on other occasions such as New Year's Eve or attending a masquerade ball.
Mardi Gras Celebration Silk Button End Braces
Look your finest in these Mardi Gras Celebration button end braces. These rich purple silk braces feature a full celebration of beads and masks repeated throughout. These button end suspenders will be your new favorite statement piece that will surely grab you multiple compliments.
Secret Identity Mardi Gras Mask Silk Button End Braces
Handsome and mysterious, the dapper mask design is repeated with dark green silk that will elevate your outfit. Keep an air of class and mystery with these Secret Identity Mardi Gras button end braces. There is no doubt that these braces will be the center of attention for all the right reasons.
What is Mardi Gras?
Mardi Gras is known to be one of the biggest celebrations of the year in certain areas. Mardi Gras is French for "Fat Tuesday". This is the last day for people to eat all the fatty and rich foods they can before the season of Lent. The following day after Mardi Gras is also known as Ash Wednesday. Mardi Gras has now turned into a prolonged period in certain parts of the world where people celebrate for weeks at a time.