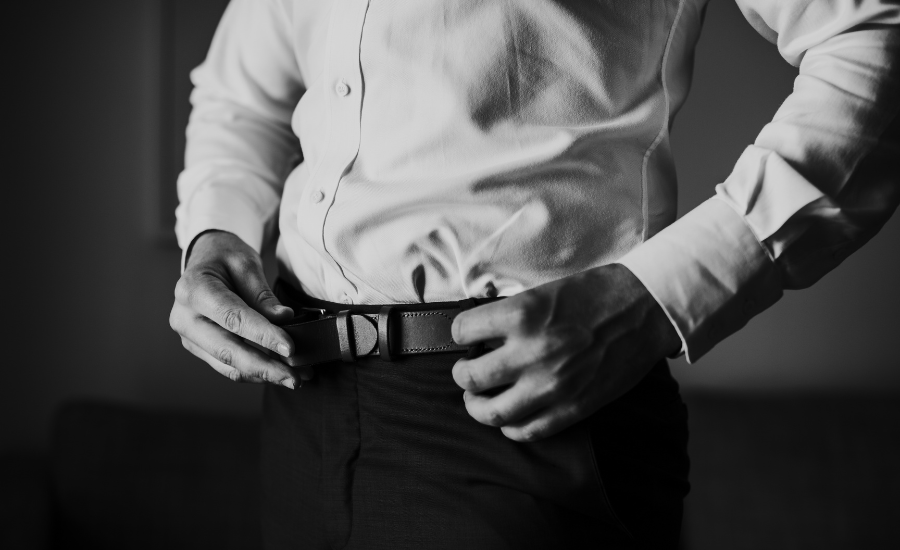 How to Attach Harness and Compression Buckles to Belt Straps
Belts are sometimes an underappreciated accessory, more often sought out for their functionality than their style potential. However, a well-dressed man understands that even the small pieces can have a massive impact. The right belt instantly adds the finishing touch to your look and elevates any outfit. Here at Trafalgar, we're proud to offer a wide variety of belt straps and buckles so you can create a unique belt that is perfect for you. Once you have put together a belt that is personalized to you, use our easy guide below to make sure you assemble your new accessory correctly.
Harness Belt Buckles & Straps
The most common belt has a traditional harness buckle and belt strap with holes.
Start by unsnapping the leather tab on the belt strap. Put the buckle through the loop so the thin side is on the inside. Make sure to line up the middle piece on the buckle so it goes through the middle hole in the strap. Then close the belt loop by snapping the leather pieces together.
Compression Belt Buckles & Straps
The compression buckle and belt strap differs from the previous type because there are no holes in the strap for the buckle to latch onto. Instead, the buckle clamps onto the strap to secure the belt.
First, unsnap the leather tab on the belt strap. Put the small loop of the buckle through the belt strap. Then just snap the strap shut.
If you want to learn more about the different types of buckles, belt straps, and how to match them correctly, check out our blog post: How to Match Belt Straps and Buckles.
Now that you have a better understanding of the basics of belt straps and buckles, browse our collection of buckles and belts here to customize your perfect belt built for any occasion!