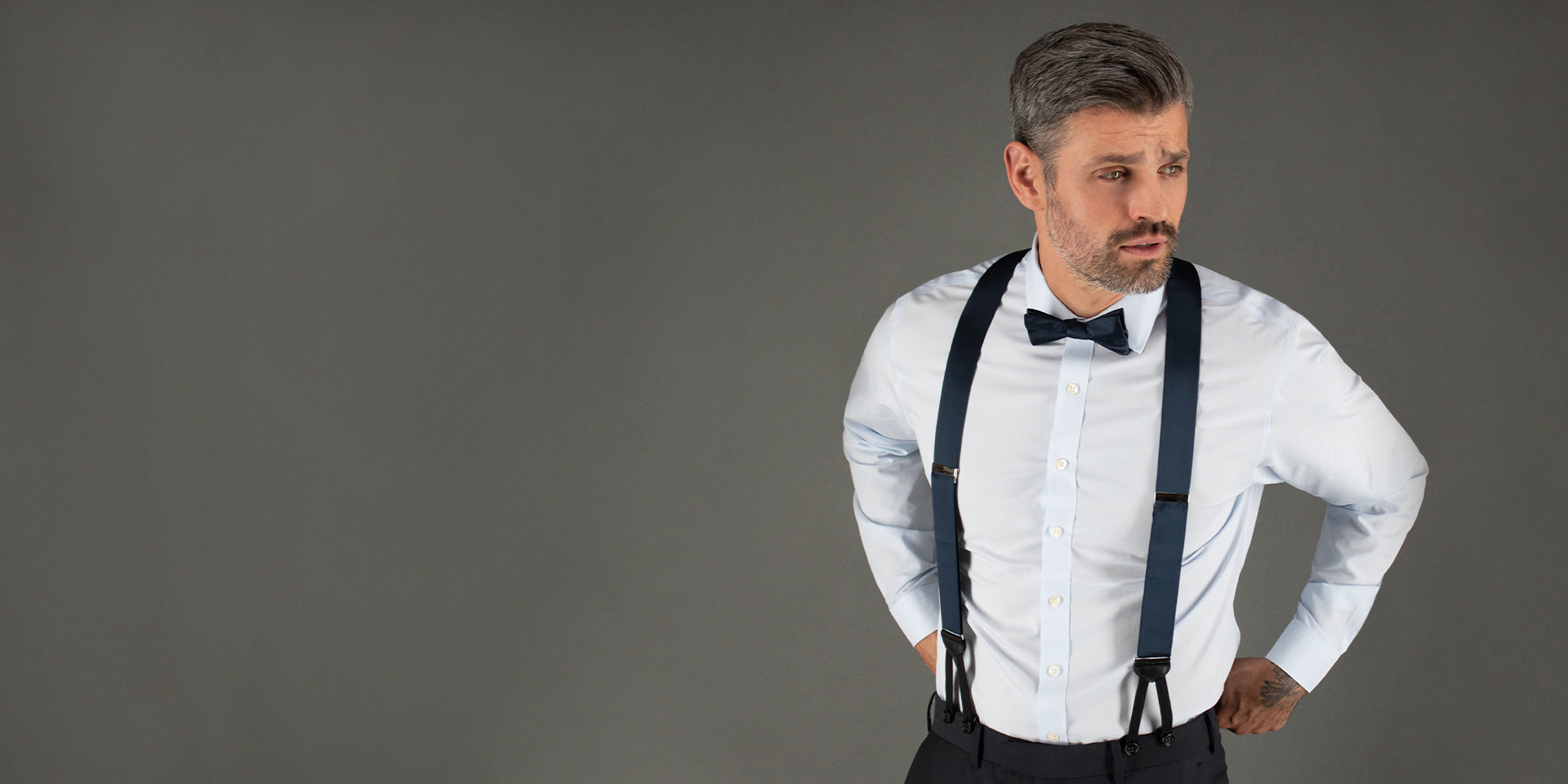 A Guide to the Sutton Collection
The Sutton Collection is full of classic accessories for men encapsulating the essence of looking good and dressing your best. These high-end pieces will elevate your outfit for any occasion and can be shown off at your next holiday party, wedding, business meeting, or special date night. 
This collection includes braces, bow ties, neckties, pocket squares, and cummerbunds, in an array of colors made from 100% silk. It also features a variety of jewelry items and dress socks. Handcrafted in America, these one-of-a-kind accessories will set you apart from the rest.  Keep reading to learn more about each of these accessories and discover why the Sutton Collection is one of our best-sellers.
Instead of wearing just a simple dress shirt and pants, try adding these solid color braces to take your look to the next level. In a world full of belts, a pair of braces add class, style, and sophistication to a man. These formal end braces are available in 14 bold colors and big and tall sizes.
Timeless bow ties and neckties are a must-have for every man's wardrobe. Available in multiple classic solid colors, they are ideal for mixing and matching with your other accessories and are comfortable enough to wear all day. An inspired choice for weddings, graduations, interviews, and charity events, these ties are classic and distinguished. They can also be dressed down with your favorite shirt and a pair of jeans for a night out.
The silk pocket square is the elegant finishing touch to any dapper outfit. Available in multiple rich colors, it can be worn with any formal attire. Simply add this 13x13 pocket square to your favorite suit or tuxedo for that special event.
The sutton cummerbund adds a handsome touch to any tuxedo for that special occasion. Made in four classic colors to choose from, this elegant cummerbund is suitable for weddings, charity events, holiday parties, and any other formal events you may have this year. The cummerbund is adjustable up to 48 inches around and is six inches tall.
Attention to the finest details is what makes a well dressed man, so adding jewelry pieces to your look can be a game changer. This collection features full formal sets as well as stud sets and cufflinks sold seperately. It also includes a tie chain and tie tacks for men who want a more traditional look. Crafted from 24K gold, sterling silver, and rhodium, our jewelry is both durable and polished.
The Sutton Merino wool dress socks are super comfortable, breathable, and designed for year-round wear. Created in mid-calf and over-the-calf styles, this sock is great for all occasions. The classic ribbing makes these socks the perfect match for your tuxedo, suit, khakis, or even your favorite pair of jeans. 
The handsome Sutton Collection is just the right pop of color and elegance you need to add a touch of class to your tuxedo or suit. Shop the entire collection today.