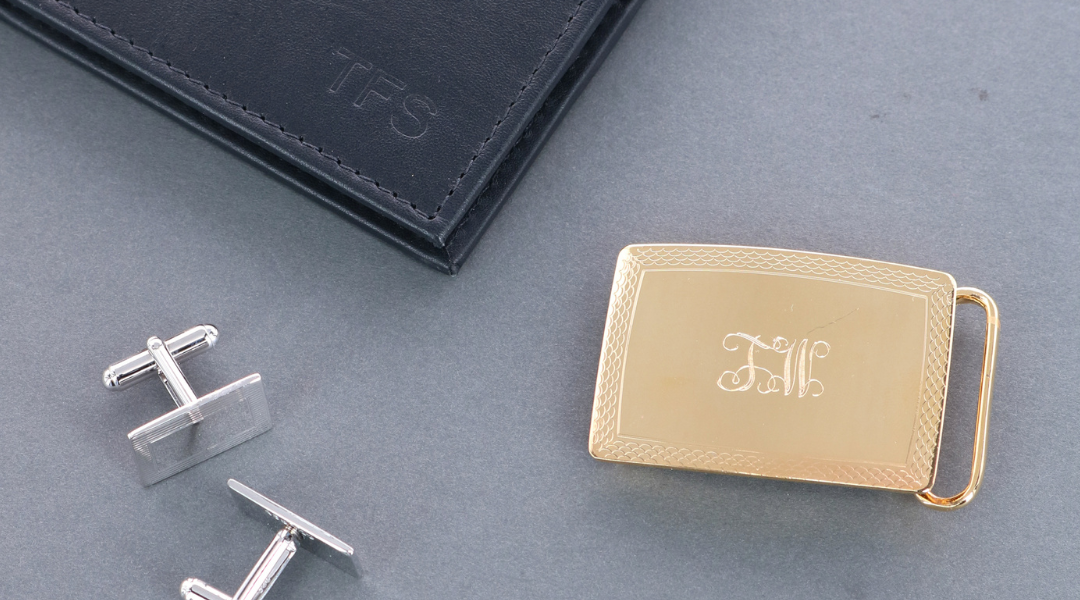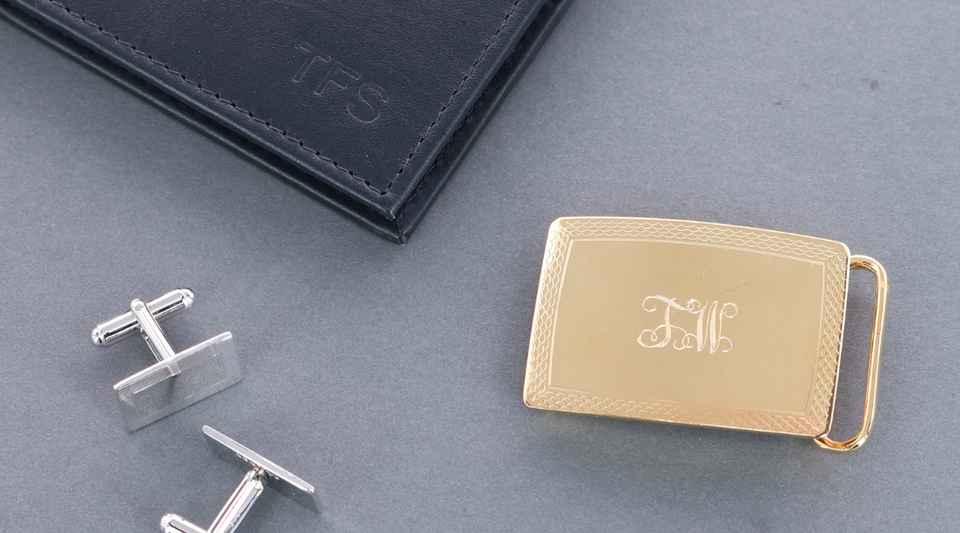 The Art of Monogramming: Personalize Your Accessories with Trafalgar
Here at Trafalgar, our mission is to help you craft a unique and personal look. What could be a more ideal method to infuse a personal touch into your accessories than through monogramming? Monogramming makes your item memorable and extra special while elevating your outfit! It transforms an accessory into a cherished keepsake, symbolizing the special moments in life that deserve to be commemorated with style and grace.
Monogram accessories make thoughtful gift options for various occasions. Whether it's a graduation, birthday celebration, or holiday gathering, gifting a monogrammed item can make those moments even more meaningful. These stylish accessories serve as a wonderful token of appreciation to gift to your wedding party.
We have engraving options for several accessories, including belt buckles, wallets, and jewelry. Adding this touch to your purchase is free and very easy to do! Depending on the item type, there is a character limit of one to three letters. For instance, small jewelry items may only fit one letter, while larger items, such as a belt buckle and wallets, can fit three.
Font options come in a range of six sophisticated styles. Some products may only have one or two font options, while others have six. This assortment of fonts empowers you to select the one that resonates with your unique taste and highlights your personal style.
Belt Buckles
Trafalgar compression belt buckles come in stunning gold and silver finishes made from high-quality materials. Depending on your belt strap preference, you can select between two different widths, either 25mm or 30mm. These belt buckles have six font options, and you can engrave up to three characters.
Wallets
Our Sergio wallets have the option to make your wallet truly one of a kind. Featured in black and tan, these wallets come in different styles depending on your preference. Whether you favor a cardcase, bifold wallet, or passcase wallet, you can secure your cards and cash with sophistication. These wallets feature our exclusive "Block" font for personalization, allowing you to add up to three characters, which will elegantly appear on the front lower right corner of the item.
Jewelry
Discover our selection of tie tacks and cufflinks available in two elegant fonts, "Block" and "Old English," each with a single character limit. These sentimental jewelry pieces will become one-of-a-kind with that special initial engraved on them. Built to withstand the test of time, our monogrammed jewelry pieces are thoughtful gifts for husbands, dads, in-laws, and that other special someone in your life.
Incorporating a monogram into your formal accessories is effortless! Read our easy-to-follow How To Add A Monogram to Your Purchase blog for straightforward instructions to follow!
Please note that monogrammed items are not able to be returned or exchanged.