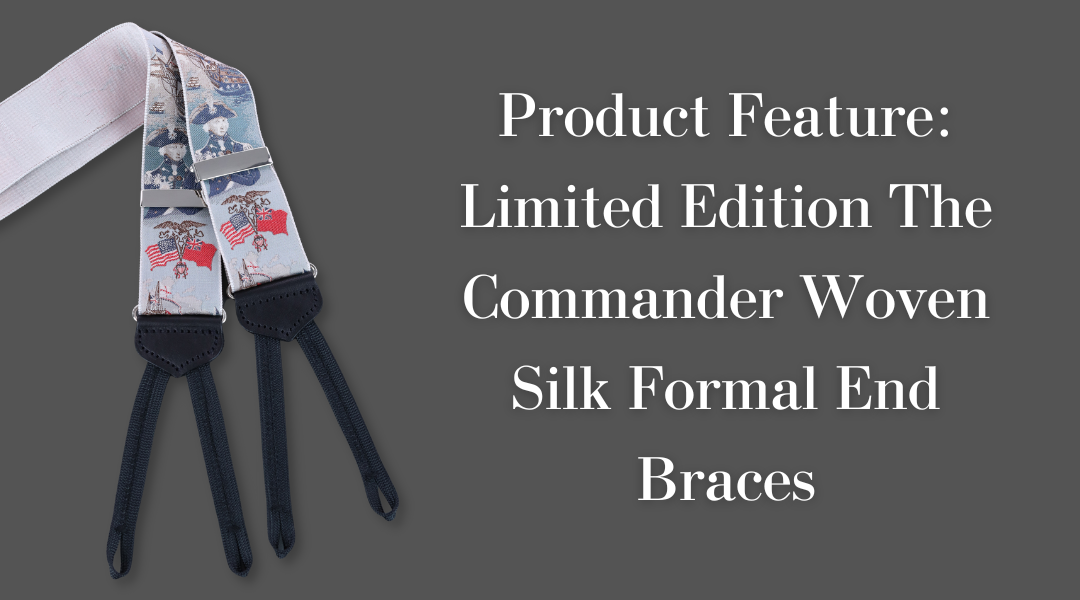 Product Feature: Limited Edition The Commander Woven Silk Formal End Braces
Here at Trafalgar, we proudly announce the arrival of our Limited Edition, The Commander Woven Silk Formal Braces! The fit in these braces provides the most comfort with their updated construction. These are hand cut and sewn in the United States from loomed silk ribbon in France. The elegant hardware is from the United Kingdom, where our best levers and rings come from.
These handsome braces measure 40mm or 1 5/8 inches wide and adjust between 24 and 38 inches for the regular fit and between 38 and 55 inches for the extra-long fit. The Commander would look impressive with any tuxedo, suit, dress slacks, or jeans! Made from high-quality materials, the ribbon is imagined, designed, created, warped, and woven in workshops in Saint Etienne, the renowned world home of ribbon making. 
Trafalgar believes that quality is the key to sophistication. As such, delivering quality accessories to men has become our passion. Trafalgar suspenders are crafted to stand the test of time. Quality, fashion, and tradition are back in these fantastic braces. The innovative design made of woven silk features a nostalgic feel to the naval theme. They feature the Commander, ships, flags, and waves and clouds in a repeated design.
This brace design is extremely limited, with only 325 pieces made. Once they are gone, these ships sail away into retirement, never to be seen again. Do not wait to add The Commander to your collection today or make The Commander the first in your new collection. Shop Trafalgar's suspenders collection today!