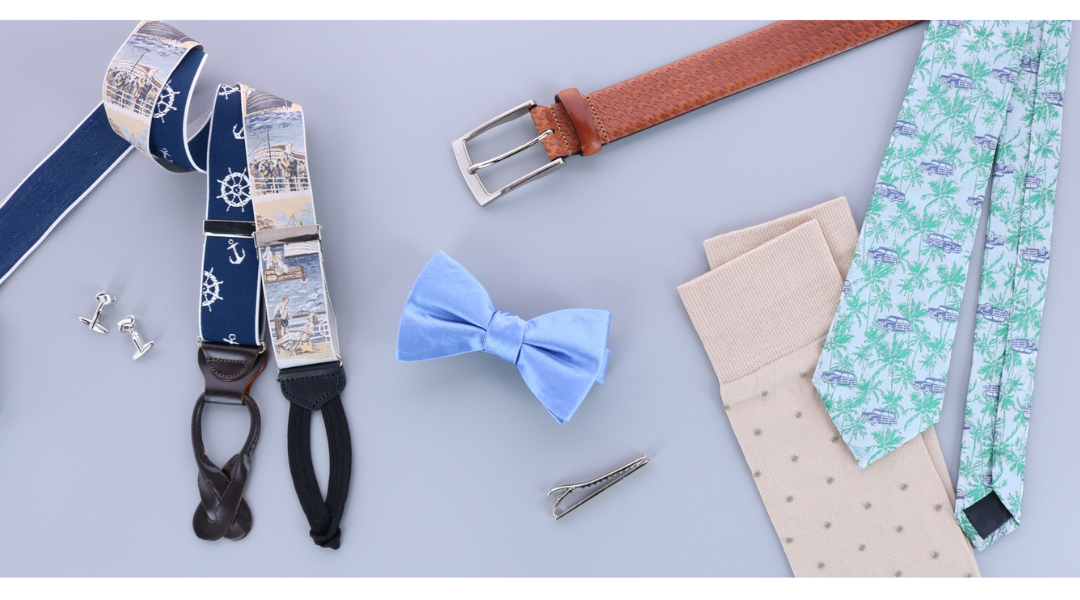 End the Season in Style: Summer Styles
Make the most of the remaining summer moments by embracing vibrant and bold patterned accessories. Gather these stylish items while you can and bid farewell to summer with a touch of elegance. These enduring pieces will be ready for you to showcase season after season. 
Vibrant Braces
From nautical braces to tropical-themed braces, there's an eye-catching style to cater to every individual's taste and preference. These suspenders do more than just hold your pants up, they make a fashion statement that's uniquely you. These versatile suspenders effortlessly complement any outfit, whether a dapper suit, an elegant tuxedo, or your favorite pair of jeans. These stunning braces are perfect for celebrating occasions like Father's Day, weddings, graduations, or birthdays.
Eye-catching Neckwear
Display your unique character with these captivating items during your upcoming occasion. Explore our diverse collection of bow ties and neckties, showcasing an array of patterns and colors.  Our Vacation Dreams silk necktie is an impressive way to keep your vacation dreams and memories alive while you are hard at work the rest of the year. The Chill Dad Necktie is a great gift option to keep your dad chuckling all year with this descriptive tie. Elevate any suit or tuxedo with our Sobee Paisley Silk Bow Tie, an exquisite and timeless final touch that will get you numerous compliments throughout the year.
Versatile Belts
Invest in high-quality belts that go great with your formalwear for the summer and year-round. Our Riverside Belt is an excellent piece for your summer ensembles. This stretch weave belt provides all-day comfort and comes in Big & Tall size options. Browse an array of classic colors and pastels that will make any outfit pop with the right amount of color at any occasion you attend. Moreover, the Riverside Belt is a fantastic choice when considering a belt for your golfing endeavors. Its thoughtful design and attributes make it particularly well-suited for the demands of the golf course.
Shop all summer accessories now!